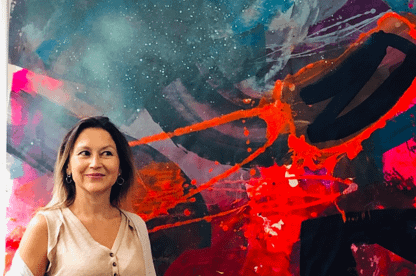 Franka .
Biography of the artist
FRANKA is a French artiste who lives and works in Paris.
She studied paintings in Paris and New York and has exhibited in France and abroad. For her, immersion in color is a pleasure, an absolute necessity. Eyes wide open, receptive and sensitive, her work is built of emotions and visual attractions. She dives into improvisation and spontaneity to let vibrant colors emerging, a mix of lights, superpositions and vibrations.
Her painting sparkles, combining brilliant and deep colors with strong contrasts. We can feel an expression of great freedom of movement. FRANKA works with acrylic for her abstractions, diffusing a tonic energy.
Let yourself go …
Awards of the artist
Details
All the artworks of Franka .