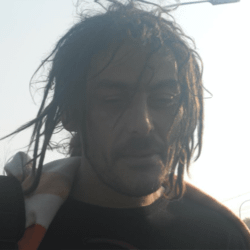 Marcello Schillewaert
Biography of the artist
I'm Marcello, self-taught creator and artist. Somewhere along the path of my life, I stumbled across painting - and haven't looked back since. Acrylics, mineral gel and sand imbue my art with a sense of other-worldliness, a return to primary sources.
I work in solitude, an intimate expression that progressively reveals itself to the onlooker. As there is no art without experimentation, I paint freely, following the whims of inspiration, never anticipating where my work will take me, be it on canvass or other recovered materials (planks of wood, vinyl offcuts, cloth, slate, carvings, …).
My art is spontaneous, yet meticulous. If any resemblance to aboriginal art is at the onset fortuitous, it is nevertheless not without meaning, my approach revealing a shared search for our origins, for harmony and tamed impulses through the mastery of points, lines and colours… A quest for the founding myth, for identity and the space to be who we are, and not what the modern world expects of us.
All the artworks of Marcello Schillewaert